Secure a winning position early in litigation...
with Cicayda's litigation strategists, eDiscovery professionals, data experts, and technologies on your side.
Many legal teams waste time and money on eDiscovery. With Cicayda on your side, your team doesn't have to be one of them.
What makes Cicayda different?
We are experts in legal workflow, software, and analytics...
Cicayda is comprised of data experts and litigation strategists who are personally committed to helping you secure a winning position.
...who offer Software as a Service (SaaS) products.
Our proprietary eDiscovery products are designed to help you build a powerful case - no matter how complex the issue; no matter how much data is involved.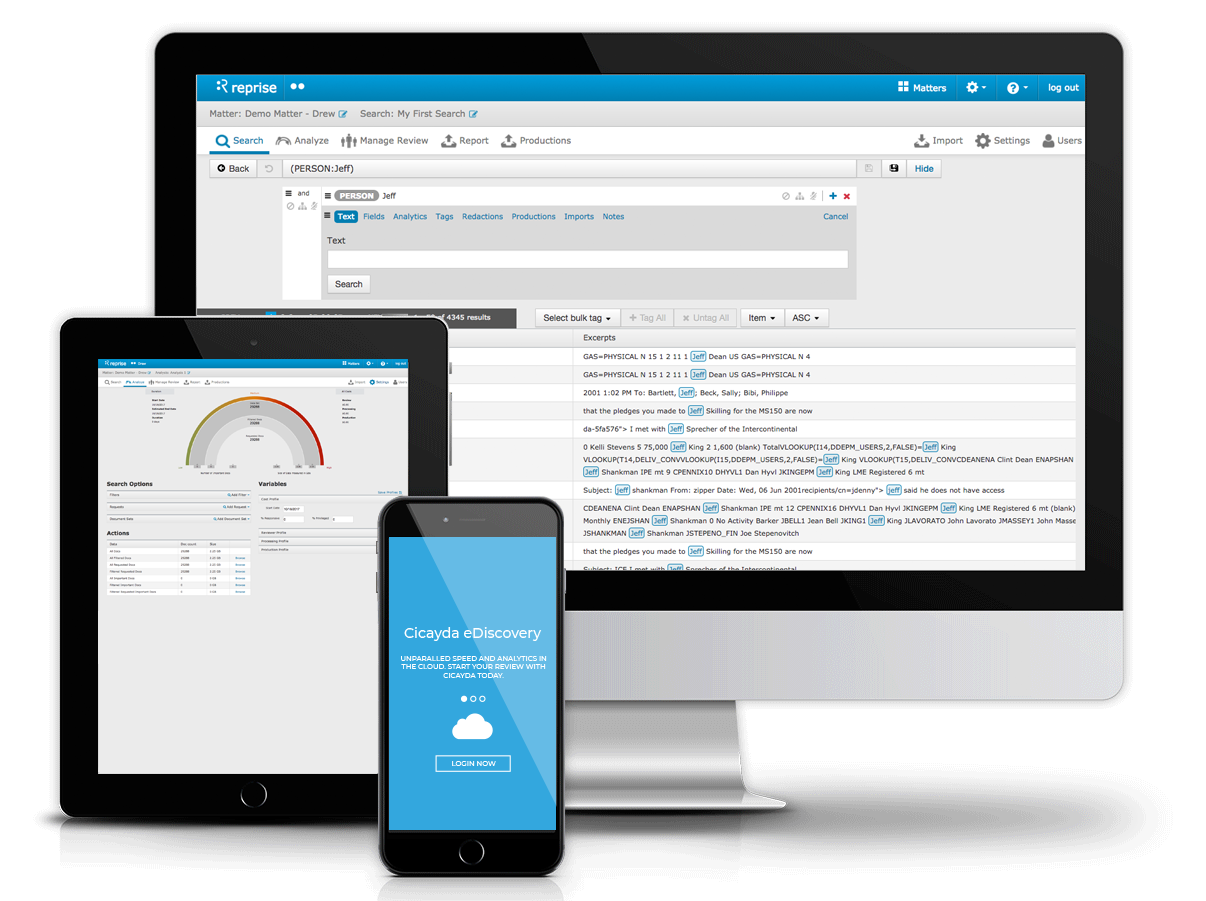 Build a Powerful Case.
Trusted by Firms, Corporations, and Government entities all over the United States
Scalable, Powerful and Intuitive Software
Cost Efficient Work-flow Solutions
Expert Project Management and Customer Support
Does any of this sound familiar?
(If so, we're ready to listen.)
TIME
The time you spend locating relevant documents and data is excessive and could be spent on more productive activities.
VALUE
You feel like you're missing out on some of your current eDiscovery software's benefits - but you're not even sure what those benefits are.
ORGANIZATION
You waste time getting organized instead of preparing and refining your litigation strategy.
INEFFICIENCY
Workflow bottlenecks are making your firm increasingly inefficient.
UNCERTAINTY
You're uncertain whether you've compiled all of the evidence you need to win your case. Or worse, you missed something detrimental that needed to be addressed sooner.
GLASS CEILING
You're settling for status quo, and you don't know what needs to happen for your firm to reach its full potential.
Let our experts customize a solution for you.
Our Robust eDiscovery Products
As legal professionals, we understand the importance of eDiscovery.
We'd love to talk with you about how we can help your team secure a winning position. There is no case too big. There is no matter too complex.